Our water use can be sustainable.
Join us in building a more sustainable future for the home.
Our Mission
We believe people want beautiful, meaningful landscapes and also want them to be sustainable. This requires a unique balance of proper vegetation, landscape architecture, infastructure, and smart controllers.
Our intelligent sprinkler controller is just the start. We believe water can be sustainably used throughout our homes. We'll continue to build things to ensure it is.
The Logo
Logo A is the preferred version of the Rachio Logo. Use this version on light colored backgrounds. For darker backgrounds, use Logo B. Only use Logo C when the background color is Rachio Blue.
Whenever possible, avoid placing the Rachio logo on colors outside of our palette. Be careful not to alter the colors or skew the dimensions of the logo. PNG format is preferred for digital use, EPS is preferred for print use.
Download Logos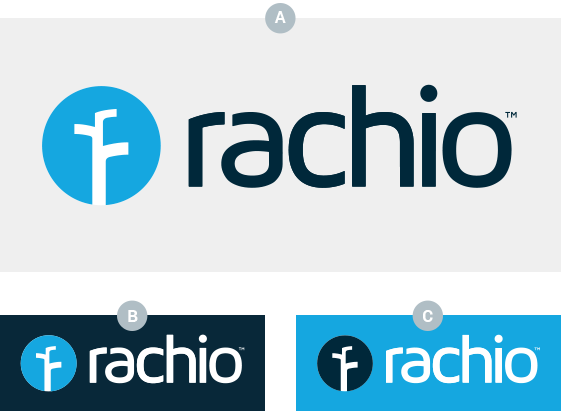 Our Colors
Rachio Blue and Navy are our most used colors. We rely on generous whitespace to keep our composition clean and welcoming. Light green is used to add a vibrant accent, but never as a fill or background color. Download Color Palette
Rachio Blue
Pantone 2995C
#00A7E1
Photos and Graphics
You can find our latest product photos, promotional images, photographs, screenshots and more on our Flickr account. If you're looking for something specific or have questions, please contact us at media@rachio.com.
Browse our Photos